When Should My Child See an Orthodontist?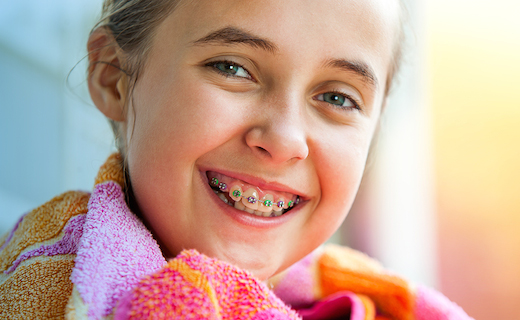 Young or old, it is always the right time to visit an orthodontist. Whether you are a teenager, middle-aged, or older, it is never too late to work toward a beautiful smile with braces for children or adults.
But, you might be wondering if your child is too young to see an orthodontist. Typically, your general dentist will be able to recommend the right time for an orthodontist visit based on your child's growth and development. Also, the American Association of Orthodontists recommends that all children see an orthodontist by the age of seven.
Why seven?
By the age of seven, children have begun to lose enough baby teeth for an orthodontist to detect possible issues that may arise with the emergence of adult teeth that could require braces for kids. Additionally, problems such as over-bites, under-bites, and cross-bites become more evident at this stage in development. An orthodontist can also begin to correct unhealthy oral habits that may develop at a young age, such as lip sucking and thumb-sucking.
What next?
If the orthodontist does detect a need for orthodontics treatment, then congratulate yourself for catching it early. An early phase of braces for kids might even prevent the need for more extensive treatment later in life. If there is not a pressing need for treatment, your orthodontist will most likely want to track your child's growth and development. Typically, your child should probably be seen every six months to a year for observation. Again, this will give the orthodontist the opportunity to spot any unhealthy oral issues in a timely manner.
If your child is more than seven years of age, and there seems to be a need for orthodontics, don't worry. It's never too late to start achieving a healthy bite and a gorgeous smile.
To learn about our family dentistry practice in Miami, call today at or make an appointment.
is the destination for excellent pediatric dental care for your child in Miami. Our offices are conveniently located with extended hours to meet your needs. At our network of specialists provide a level of care that is geared toward treating patients from age one. This team approach gives our patients more options and the benefit of multispecialty treatments. We accept most dental insurance plans and offer affordable financial solutions for any budget. Patient satisfaction is our top priority and we strive to provide the exceptional, affordable dental care and personal touch that lead to lasting relationships. A smiling patient is our greatest reward and we look forward to keeping those smiles healthy, beautiful, and bright. Discover an affordable pediatric dentist who truly cares at .