Kids' Dental Emergencies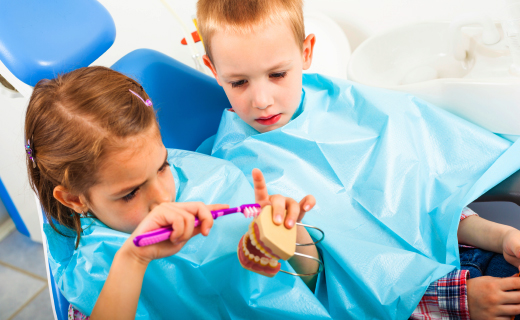 While kids' dental emergencies are a rare occurrence for the average family, if you find yourself in need of urgent dental care, you want assurance that your child is in the best possible hands. A pediatric dentist is equipped and trained to deal with all sorts of pediatric dental emergency situations.
What is a Pediatric Dental Emergency?
Causes for visiting a pediatric dentist may include:
Broken jaw

Whether due to a sports injury or other accident, a broken jaw can cause great pain and anxiety.
First, apply a cold compress to reduce swelling. Then, get to the hospital immediately in order to be checked for a concussion or other head trauma.
Chipped, fractured, or broken tooth

If your child has broken off part of a tooth, immediately rinse his or her mouth with water, and apply a cold compress to reduce swelling. Try to save the chipped piece if possible.
Severely biting the lip or tongue

When a bite is severe enough to cause bleeding, it needs to be assessed by your pediatric dentist.
Something lodged in the teeth

Often, you can remove the item yourself using dental floss. Using metal, plastic, or other sharp tools will only lead to a serious pediatric dental emergency.
If dental floss doesn't work, your child's pediatric dentist has the proper tools to safely remove the object.
Tooth issues

Teeth that are extremely loose may need to be removed by your dentist to avoid swallowing.
For toothaches, rinse your child's mouth with warm water first. Then apply a cold compress. Pain relievers may be taken as needed until your appointment.
If a tooth has been knocked out, rinse the tooth in warm water; do not use soap. Reinsert the tooth into its socket, but be careful to only touch the crown, which is the part that is normally visible above the gum line. Go to the hospital right away for the best chance of saving the tooth.
Kids' dental emergencies should not cause panic or fear. Remember that your child will respond to your behavior and emotions. Stay calm, address the issue, and get to a pediatric dentist as soon as you can.
To learn about our family dentistry practice in Miami, call today at or make an appointment.
is the destination for excellent pediatric dental care for your child in Miami. Our offices are conveniently located with extended hours to meet your needs. At our network of specialists provide a level of care that is geared toward treating patients from age one. This team approach gives our patients more options and the benefit of multispecialty treatments. We accept most dental insurance plans and offer affordable financial solutions for any budget. Patient satisfaction is our top priority and we strive to provide the exceptional, affordable dental care and personal touch that lead to lasting relationships. A smiling patient is our greatest reward and we look forward to keeping those smiles healthy, beautiful, and bright. Discover an affordable pediatric dentist who truly cares at .