Make Kids Smile About Brushing Their Teeth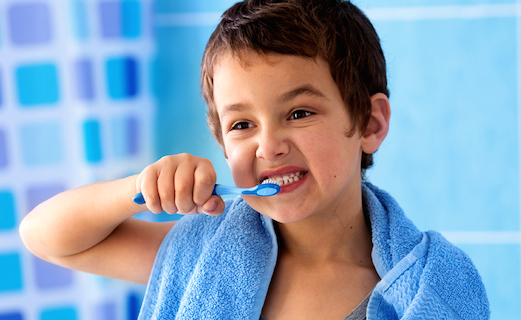 One of the first dental habits that children develop is brushing their teeth. Yet making good dental care a habit isn't always easy. Kids can be challenging and don't always want to stay on schedules. Fortunately, parents can help their kids become better brushers and learn to develop good dental care habits by brushing up on these tooth brushing tips from dentists.
Begin Brushing Young – Start your child on a regular brushing routine as early as possible to help make it a habit and make it a pleasure. Consult with an affordable dentist about the right time to teach kids to reach for a brush.
Let Kids Voice Their Choice – Let your child choose their toothbrush, toothpaste and floss so they feel a sense of control over the toothbrushing process. This will relieve their fear, reduce their fuss and result in a better brushing experience.
Pick the Perfect Time – Schedule brushing before something that your child enjoys, such as story time or playtime, so they associate brushing with a pleasant activity.
Keep It Consistent – Schedule regular times each day for brushing teeth so your child develops a healthy routine. This will also help child will know what to expect, which will decrease the tantrums and troubles.
Make It More Fun – Show your kids that good dental care can be a good time by playing upbeat music and dancing around while brushing. Bring their favorite dolls to brush with them or sing silly songs to help them feel comfortable as they care for their teeth.
Reward Regularly – Treat your child for brushing their best. Hang a chart that tracks their brushing and add a sticker to the chart each time they brush without fuss. When they have a certain number of stickers, give them a special reward.
Make It a Family Affair – Bring the whole family together to brush their teeth so your child can see that daily dental care is a part of everyone's life.
Take Your Own Tooth Brushing Advice – Lead by example and practice good dental hygiene habits in front of your children. Emphasize how important it is to brush and care for your teeth on a daily basis so they understand they should take pride in practicing healthy dental care habits.
To learn about our family dentistry practice in Miami, call today at or make an appointment.
is the destination for excellent pediatric dental care for your child in Miami. Our offices are conveniently located with extended hours to meet your needs. At our network of specialists provide a level of care that is geared toward treating patients from age one. This team approach gives our patients more options and the benefit of multispecialty treatments. We accept most dental insurance plans and offer affordable financial solutions for any budget. Patient satisfaction is our top priority and we strive to provide the exceptional, affordable dental care and personal touch that lead to lasting relationships. A smiling patient is our greatest reward and we look forward to keeping those smiles healthy, beautiful, and bright. Discover an affordable pediatric dentist who truly cares at .