Posted under:
Root Canal
Posted on: August 31, 2022
National Gum Care Month in September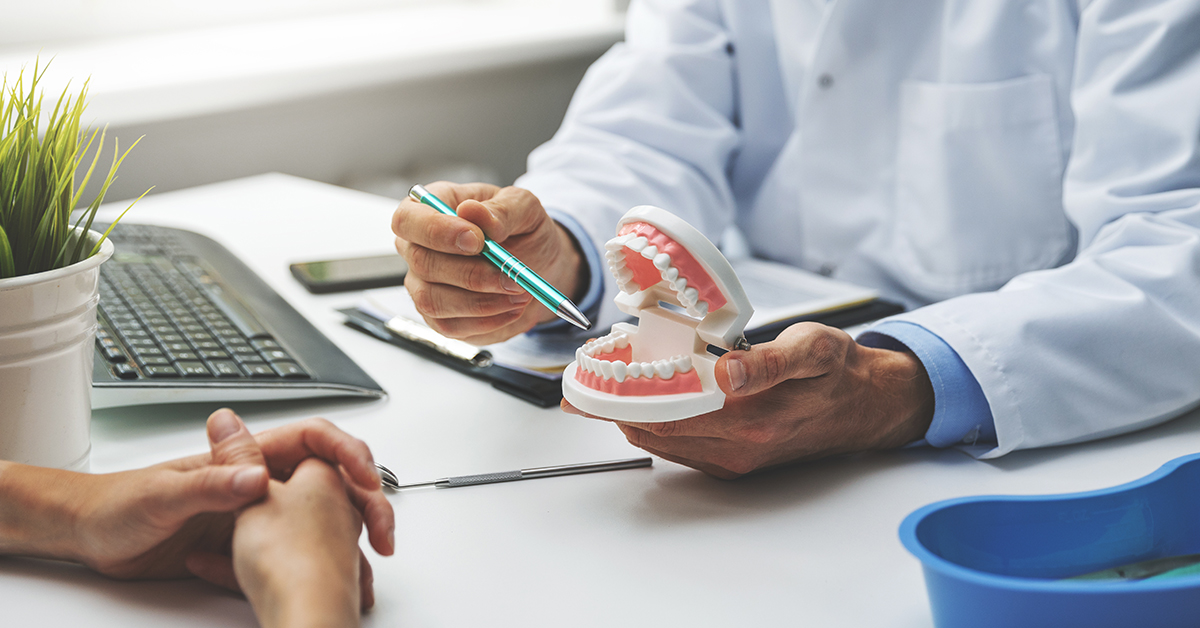 September is the perfect time to learn more about how to care for your gums properly and avoid gum disease. That's because it has been deemed National Gum Care Month. During this month, dentists work hard to spread information about how to maintain healthy gums.
Paying attention to your gums is important because gum disease continues to be a major issue. Studies show that adults ages 35 and older have gum disease to thank for the majority of tooth loss. While more adults lose teeth as a result of gum disease, it's a condition that can affect people of all ages, including kids and teens.
Now marks the perfect time to take the health of your gums seriously and prevent the loss of teeth from gum disease. Below is more information about how to care for your teeth and how to spot signs of gum disease so that you know when it's time to visit your Miami dentist.
Gum Disease and Your General Health
One important thing that people need to learn during National Gum Care Month is that gum disease affects more than just your oral health. In fact, it can very easily affect your overall general health as well.
According to experts, gum disease has been connected to a number of other health-related issues. For example, gum disease can lead to heart disease. It's also not uncommon to hear about gum disease leading to having a stroke. In short, not caring for your gums can put your whole body at risk.
Let's Talk Gum Care
All right, so you know that your overall health is riding on the line when it comes to caring for your gums. This begs the question, "How do people properly care for their gums?" You may be shocked to learn that there isn't much outside of your general oral hygiene routine that you have to do to care for your gums. The most important thing is to be diligent, and stick to your oral hygiene routine every day.
Toothbrush
The basis of all oral hygiene routines should start with brushing your teeth twice a day. If possible, you should brush after each meal. However, that's a tall order. Between work, school and other obligations, it can be hard to brush after each and every meal. Regardless, at least make sure that you do it twice a day.
Let's talk about the toothbrush you're using too. Make sure that you pick one up with soft bristles rather than hard ones. Hard bristles are known for irritating gums and even hurting your teeth. On a similar note, pick a toothbrush that has varying bristle lengths. This makes it possible to clean more areas of your teeth while still stimulating your gums.
Lastly, you need to make sure that you change your toothbrush every three months. Bacteria can start to grow on an old, worn-out toothbrush. To make sure that you get the most out of brushing, you should be changing the toothbrush often.
Floss and Dental Visits
Beyond brushing, you should floss each and every day. This is something that you have probably been hearing since you were a kid. The reason why so many people have tried to ingrain it into your brain is that flossing is very important. Despite it being important, many people tend to skip it.
Flossing helps stimulate the gums. It also helps remove the food particles that get caught between your teeth. These are the same particles that the bacteria that cause gum disease thrive on. Thus, removing the food particles is important.
Keep in mind that, no matter how well you take care of your teeth, you can't do it all alone. You'll still need to visit your Miami dentist. Thus, another good way to keep gum disease at bay is to schedule an appointment with your dentist twice a year.
Warning Signs and Stages of Gum Disease
To better understand gum disease, it's important that you know how to spot it. If you're visiting your dentist regularly, the staff can help you spot early warning signs of gum disease as well. The faster you start treating gum disease, the easier it is to get rid of.
Stage One
The first stage of gum disease is known as gingivitis. This is the easiest stage of gum disease to treat. Warning signs include bleeding, red or swollen gums. You may or may not experience any kind of pain as well. Typically, people notice signs of bleeding gums first. The bleeding may occur while flossing, but it can also occur while brushing.
Stage Two
The next stage is a bit more advanced and is known as periodontitis, which develops if you don't treat gingivitis. Many of the warning signs for this stage of gum disease are the same. You're still likely to see bleeding when brushing, and your gums are likely to be red and swollen. However, you're more likely to experience pain while doing your oral hygiene routine.
During this stage, little pockets start to form in the gums as well. Food particles and bacteria can start to build up in these pockets, causing even more problems for your gums. As more bacteria builds up, you start to progress to the third and final stage of gum disease.
Stage Three
The final stage of gum disease is simply called advanced periodontitis. The warning signs for this stage are much easier to notice. Typically, people notice their gums starting to pull away from their teeth. You may even see pus forming around your gums, or your teeth could fall out.
Treatment for this level of gum disease is much more extreme. Since it breaks down soft tissues and bone, most people require oral surgery to treat this level of gum disease.
Seeking Treatment for Gum Disease in Miami
Do you or a loved one suffer from gum disease? Maybe you aren't sure if you have gum disease. In either case, you can count on our team of experts to help you. We proudly offer an array of dental services in Miami, including gum disease treatment. Contact us now to schedule an appointment to start down the road to recovery.