Pour the Milk and Slice the Oranges – How Food Can Boost Your Dental Health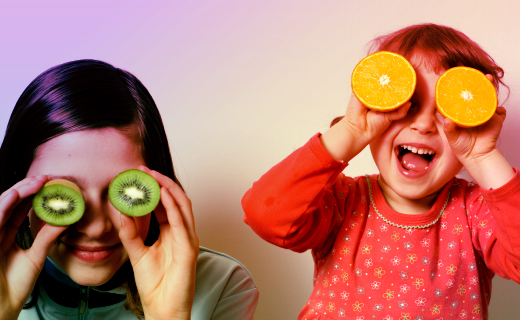 When someone mentions that food affects your teeth, you probably roll your eyes and prepare yourself to hear about all the delicious things you should never eat. However, there are plenty of foods that actually improve your dental health, and most of them taste great. In fact, a healthy diet can be part of your dental care routine.
Calcium and Its Sidekick, Vitamin D
As any mom, doctor, or expert in family dentistry will tell you, milk rocks. You need 800 milligrams of calcium daily to effectively reduce your risk of periodontal disease, and you need vitamin D to help your bones absorb it. Together, they keep your teeth and your jawbone strong; if you do develop periodontal disease, a healthy jawbone will keep a tighter hold on your teeth and reduce the risk of tooth loss. Get calcium from low-fat dairy products, almonds, soybeans, and leafy greens like kale. To boost your vitamin D, eat wild salmon, sardines, egg yolks, and low-fat yogurt.
Vitamin C: Produce Power
Vitamin C helps keep your gums strong and healthy by strengthening blood vessels and connective tissues that hold your teeth firmly in your jaw. Its powerful antioxidant properties also reduce inflammation, which is linked to gingivitis. Increase your vitamin C intake with citrus fruits, Brussels sprouts, cauliflower, cabbage, white potatoes, leafy greens, berries, and summer squash.
Beyond Milk: How Beverages Help Your Teeth
Even what you drink can help your teeth. Water flushes food particles from between teeth and increases your saliva levels. Saliva deters tooth decay by counteracting acids that damage enamel. If you suffer from dry mouth, you may have an increased risk of dental problems. Don't try to relieve dryness with hard candies; drink lots of water and chew sugarless gum instead. If you get tired of plain water, try unsweetened green tea. Tea leaves contain antioxidants that fight the bacteria associated with gum disease.
Supplement Your Diet with Good Dental Care
Eating right and practicing good oral hygiene are both essential for a great smile, but don't forget to visit your dentist in Miami regularly. If tooth or gum problems are caught early, your dentist can treat them with less invasive techniques. Family dentistry practices offer convenient, affordable treatment for everyone in your household, so don't wait another day; act now to keep your teeth healthy and strong for a lifetime.
To learn about our family dentistry practice in Miami, call today at or make an appointment.
is the destination for excellent pediatric dental care for your child in Miami. Our offices are conveniently located with extended hours to meet your needs. At our network of specialists provide a level of care that is geared toward treating patients from age one. This team approach gives our patients more options and the benefit of multispecialty treatments. We accept most dental insurance plans and offer affordable financial solutions for any budget. Patient satisfaction is our top priority and we strive to provide the exceptional, affordable dental care and personal touch that lead to lasting relationships. A smiling patient is our greatest reward and we look forward to keeping those smiles healthy, beautiful, and bright. Discover an affordable pediatric dentist who truly cares at .