Posted under:
General
Posted on: March 6, 2015
Protect Your Kids and Teens from Sports-Related Dental Injuries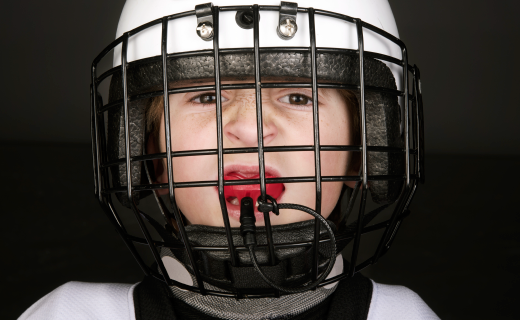 If you have children or teens who play contact sports, or engage in other athletic activities, it is extremely important to protect them from sports-related dental injuries. Any family dentist can tell you how accidental blows and falls can severely damage teeth, soft tissues, and even bone. Knocked-out front teeth, tooth fractures, gum and cheek injuries, and broken jaws are all common. Although they are treatable, these injuries cause significant pain and affect your child's ability to eat, drink, speak, and smile properly. Prevention is the best cure.
3 Tips for Preventing Sports-Related Dental Injuries
Make sure that your children wear a helmet when possible. Although it does not protect the teeth and gums directly, it protects the head from concussion, which could render an injured athlete unable to protect his or her face reflexively.
Mouth guards are a more direct way to protect teeth from impact injuries such as cracking, chipping, and being knocked out. Your pediatric or family dentist can provide a custom mouth guard on request.
Face cages offer more facial protection than a mouth guard. They effectively prevent any object from striking the user's face. Face cages are commonly worn in ice hockey or field hockey.
Repair and Treatment of Sports-Related Dental Injuries
Chips, cracks, and soft tissue injuries are relatively easy to manage, but a knocked-out tooth is a more serious problem. If a tooth is knocked out of its socket, rinse it under running water to remove debris. Do not touch the crown. Replace the tooth in the socket, if possible. If it cannot be replaced, store it in a cup of milk, and see your family dentist immediately.
Find Pediatric Dentist in Miami
Good chemistry between dentists and their young patients makes treatments and routine exams easier. To find a pediatric dentist in Miami whom kids and teens can rely on for prevention and treatment of sports-related dental problems, get a referral from your family dentist, or ask other local parents and teachers about their experiences.
To learn about our family dentistry practice in Miami, call today at or make an appointment.
is the destination for excellent pediatric dental care for your child in Miami. Our offices are conveniently located with extended hours to meet your needs. At our network of specialists provide a level of care that is geared toward treating patients from age one. This team approach gives our patients more options and the benefit of multispecialty treatments. We accept most dental insurance plans and offer affordable financial solutions for any budget. Patient satisfaction is our top priority and we strive to provide the exceptional, affordable dental care and personal touch that lead to lasting relationships. A smiling patient is our greatest reward and we look forward to keeping those smiles healthy, beautiful, and bright. Discover an affordable pediatric dentist who truly cares at .