Stop Your Kids' Cavities Before They Start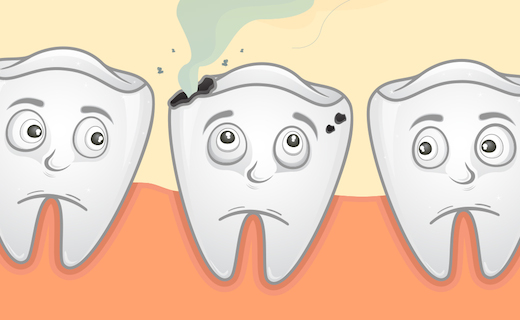 Great oral care is the best way to prevent dental cavities in children, and teaching kids good habits early sets the stage for a lifelong healthy smile. Just like a wholesome diet and exercise helps bodies stay fit, good oral hygiene helps prevent child tooth decay. The American Dental Association (ADA) offers great advice for preventing cavities in children. The following tips can help parents develop a healthy dental care routine for kids of any age.
Anti-Cavity Tips for Babies, Toddlers, and Preschoolers
Clean your baby's gums with a moistened gauze pad after feeding.
When teeth first appear, use a child's soft toothbrush and plain water to clean them.
Begin flossing daily when teeth grow close enough to touch each other.
Use only a pea-sized amount of fluoride toothpaste.
Supervise your children until they can brush without swallowing toothpaste.
Start dental check-ups at one year of age.
Tips for Older Kids and Adolescents
Brush your child's teeth twice every day and help with flossing until they are six or seven years old; at this age, begin to teach them to brush their own teeth. You may need to supervise them until they are about 10 years old.
Schedule regular visits with your dentist to make sure that your child's oral hygiene routine is effective.
Ask your dentist about dental sealants; these are plastic coatings that are applied in areas where tooth decay commonly starts.
Remind your kids and adolescents of the importance of good oral hygiene.
Educate your older children about the dangers of poor food and beverage choices, oral piercings, and tobacco use.
Consider purchasing a mouth guard for kids involved in sports.
To learn about our family dentistry practice in Miami, call today at or make an appointment.
is the destination for excellent pediatric dental care for your child in Miami. Our offices are conveniently located with extended hours to meet your needs. At our network of specialists provide a level of care that is geared toward treating patients from age one. This team approach gives our patients more options and the benefit of multispecialty treatments. We accept most dental insurance plans and offer affordable financial solutions for any budget. Patient satisfaction is our top priority and we strive to provide the exceptional, affordable dental care and personal touch that lead to lasting relationships. A smiling patient is our greatest reward and we look forward to keeping those smiles healthy, beautiful, and bright. Discover an affordable pediatric dentist who truly cares at .