Posted under:
General
Posted on: May 29, 2015
Teething and Children's Tooth Loss Timeline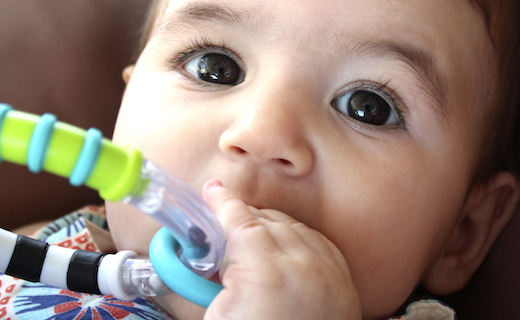 Even before birth, your baby's teeth were starting to develop as tiny buds beneath his gums. If you're wondering when his baby teeth and permanent teeth will make an appearance, the following tooth loss timeline can serve as your guide. Keep in mind that these are just rough estimates; a first tooth can show up early or late. As long as your pediatric dentist is happy with your child's development, there's no need to worry.
Eruption of Baby Teeth
and Teething

At around four months of age, teething begins. Swollen, red, and painful gums are common due to teeth cutting through the tissue. Teeth often emerge in pairs, and girls may get their teeth before boys. The first teeth to erupt are usually the middle bottom teeth. Your pediatric dentist can give you advice for soothing painful teething symptoms. At about eight months of age, the upper middle teeth erupt. The top and bottom teeth adjacent to the middle teeth erupt between the ages of 9 and 16 months.
Toddler Tooth Timeline


Between 12 and 19 months of age, you'll see your child's first molars on the top and bottom. Starting at 16 months, upper and lower canine teeth emerge. Between 16 and 23 months of age, the lower second molars will erupt in the very back of your child's mouth.
Preschool Dental Development


A short time after your child turns two, you should see the upper second molars. At three years of age, he will have a full set of 20 baby teeth. When he turns four, his facial bones and jaw will grow to help accommodate permanent teeth.
Childhood-to-Adolescence Tooth Loss Timeline


Your child will start losing his primary teeth between the ages of six and 12. During this period, he will have both baby and adult teeth in his mouth as one type gradually replaces the other. By the time he is 12 years old, he should have 28 permanent teeth in place. Four wisdom teeth, if they erupt, will make their appearance in his late teens or early 20s.
To learn about our family dentistry practice in Miami, call today at or make an appointment.
is the destination for excellent pediatric dental care for your child in Miami. Our offices are conveniently located with extended hours to meet your needs. At our network of specialists provide a level of care that is geared toward treating patients from age one. This team approach gives our patients more options and the benefit of multispecialty treatments. We accept most dental insurance plans and offer affordable financial solutions for any budget. Patient satisfaction is our top priority and we strive to provide the exceptional, affordable dental care and personal touch that lead to lasting relationships. A smiling patient is our greatest reward and we look forward to keeping those smiles healthy, beautiful, and bright. Discover an affordable pediatric dentist who truly cares at .